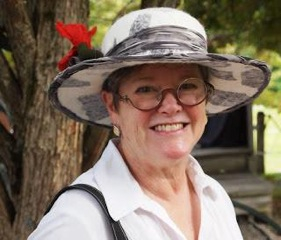 When other little girls were taking piano and dance lessons I was wandering through fields, climbing the neighborhood hill, catching grasshoppers or exploring the creek. The out-of-doors has always been an important part of my life and of my interpretive naturalist career when I was teaching people about outdoors.
My indoor activities were based on art and "making things." I always had a paintbrush or pencil in my hand and have enjoyed drawing and creating for as long as I can remember.
I first ventured into the business of selling my creations when I picked pussy willows at age five and sold them to neighbors. It brings me great pleasure that now creating using fiber to make felt can be such a fun and rewarding part of my life.
At home in Colorado, I show and sell my felted work , present workshops to share my love of the craft with others, and I have won recognition for my work at the Taos Wool Festival in 2007 and 2009 and my hand-felted Cathedral Window Scarf was juried into the Fiber Celebration in 2011.
Inspiration
In November, 2011 I was invited to be part of a field seminar in Argentina called Weaving Andean Stories. Offered through Cloud Ridge Naturalists, the seminar took us to several regions of Argentina where my felting friend, Fran Enright, and I taught indigenous women the art of felt making. The weaving traditions in each of the villages where we taught run deep, the women have access to natural fiber but did not know much about felt making.
In Purmamarca, in NW Argentina, we taught seven women, as well as those who were part of the seminar, the finer points of nuno felting. Purmamarca has a marketplace in the plaza and galleries and shops throughout town and appreciates traditional and modern art. The second town, in Patagonia, was a much poorer location. the women here got their fiber from the sheep they raise. Their weaving, in the Mapuche tradition, was wonderful to see and many of us on the trip bought hand-spun yarn from them in the natural colors of their sheep.
We taught two classes in Gualjaina, the first to show them how to felt two colors together to make a design (partial felts). The second class was to show them how to make a "resist" so they could make items like pouches or anything similar with dimension to it. All three classes were deeply rewarding experiences and I hope to go back one day to see if the Argentinian felters have created a new income stream.